Earn Money for Your Music Register for free & take control of your copyrights.
We're excited to have launched our registration and account also to independent bands, self-published artists and DIY songwriters. Join us now for free and register your music quickly – we are currently looking for more music to offer our broadcasters!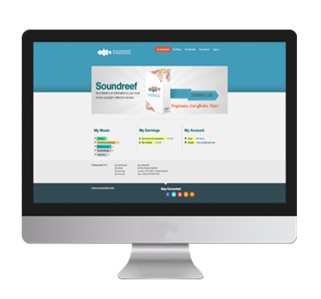 Do you know if your music is broadcasted in public spaces in Europe? Where do those royalties go? We want to clear that up for you and make a direct connection between you and the royalties from your music used in European territories. You'll be inserted in our catalog available to over 2,200 retail establishments (and growing). You'll know how much you are earning, when you will be paid, and where your music is playing. Royalty collection does not have to be unclear and untraceable. Use your dashboard to see analytical data concerning your earnings. Want to know exactly where your music is playing? We'll even give you the street addresses. Would you like to know how many times each song gets played, and where? There it is, playcount by song, by channel. How about having a faster, more direct process to collecting your foreign royalties? Done. We'll collect your royalties in the European territories and send them directly to you, no matter where you live.
####
Soundreef, avant-garde music management company in Europe, is looking for musicians worldwide to insert into their catalog due to client demand. Soundreef specializes in background music for retail chains – an unexplored source of income & promotion for many musicians.
They are an alternative to performance rights organizations & collecting societies such as ASCAP, BMI, SESAC, SIAE, SACEM, GEMA & more for background music licenses used in Europe.
The agreement is non-exclusive so you can be a part of ASCAP/BMI/SESAC, etc. and still sign up with Soundreef. Musicians collect their royalties every 6 months and get their dashboard online where they can see where their music is playing, how much they are earning, and when they will be paid. All earnings are distributed analytically along excel reports with relevant data – no market sampling! Sign up for the chance to be broadcasted in over 2,200 points with more than 17.8 million in-store monthly radio listeners.