Killing Cartisano, Roberta Cartisano's reincarnation, is a multi-instrumentalist songwriter and producer. Her mellow, yet powerful psycho-folk captivates you instantly. We had the pleasure of interviewing her. 
Hi, Roberta! Tell us a bit about yourself: where are you from? When did you become passionate about music?
Hey guys! I come from Reggio Calabria, in southern Italy. I grew up in an environment surrounded by music which made me become a musician without choosing. My grandmother plays the piano. She always tells me about how she used to play the accordion during WW2. They were all homeless back then. Music helped keep their minds off things. And still to this day she keeps repeating that "Music is life". I started writing songs in elementary school while taking piano lessons and I haven't stopped since. I started learning to play the bass guitar thanks to my brother, who's a bass player. He also taught me stuff like musical arrangement and production. We used to make music on a 4-track cassette tape machine. We had a blast. Our room was a mess, there were mics everywhere, vintage guitars, basses, a Farfisa organ, and a Korg M1 synth. We used to play on my dad's vinyl; he loved music and old school HIFI stereo systems. Thanks to my dad I was lucky enough to grow up listening to Alan Parson, Pink Floyd, Doors, Electric Light Orchestra, Gershwin and many more.
How did you come up with the name "Killing Cartisano"?
A few years ago, I got robbed of 4 years' worth of pre-production of my third album in Italian (as Roberta Cartisano). It was pretty much ready to be recorded.
When my fans found out they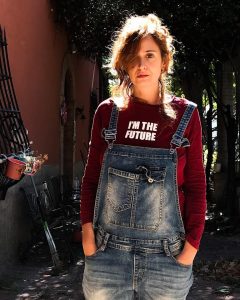 spontaneously started a crowdfunding campaign. In just 1 week I was able to get new equipment to get back to work, all thanks to them. Talk about making the best out of a bad situation. I couldn't go back to those songs, though, it hurt too much. This new album was so heartfelt, it just came right out. Back then I started posting pictures on social media with the hashtag #killingcartisano without really thinking about it that much. I felt this incredible energy inside. As if I were transitioning towards a new form of existence. In life and in music alike. And that's how I killed the old Cartisano. I just went with the flow.
So, does that mean you've abandoned your Italian project for good? Why did you decide to "reincarnate" as KC?
When journalists found out I had become KC they reacted by saying 'It's such a shame. It's so rare to find an artist that writes so well in Italian". Comments like these are such a confidence booster.  They came after years in which I had decided to completely disappear. I never actually stopped writing in Italian. I write and make music every day, regardless of the language. I do stuff like soundtracks, for example. Right now, I'm focused on my career as an English-singing artist, but I often look back at those songs I wrote in Italian. I've always kept them hidden after the incident. If ever go back to singing in my language, I'll still do it as Killing Cartisano, but I'll follow a different approach. Something like Joni Mitchell's Mingus. I'd love to work with a refined orchestral arranger who's got a background in woodwind instruments, but a punk soul inside. We'll see. I don't really know what to say right now. KC's reincarnation has been a natural process. The theft simply sped-up a transformation that was already taking place. That moment changed my life. I left the "big city" to create a farmhouse for artists in Umbria where I currently live. I work in my studio as a producer and I host artists, writers, and musicians from all over the world. I created my own little San Francisco in Italy. This is where KC was born, amidst the olive trees and with California in my heart. I've been a musician since I was 16.  I've never stopped. In the last 15 years, I've been so focused on music that I've even ignored the pain caused by some personal issues. I needed a break. I needed to breathe. I needed to move on from the past, to "kill" it and to be reborn in another part of the world where I had yet to try my luck as an artist. The only thing I wanted to trust was my music, and music as a whole. I wanted it to be at the center of my life after years where I almost lost its sense of purity as a result of certain events that had changed me.
Tell us about your experience in San Francisco: do you think it was a turning point in your career?
In San Francisco, people have a lot of respect for experienced female musicians. In Italy, if you publish an album and you're over 30 years old, people tell you to just let go because you're "too old". There's also lots of sexism in live events. Sound technicians sometimes ignore me because they think us women don't really understand sound. I'm strong enough to deal with these situations professionally and politely, but it must be hard if you're very young. This doesn't happen in San Francisco. If you're a musician, it's like you're part of a big family. Musicians invite you to their gigs and tell you their opening act is awesome. It's like they support the opening acts more than they support themselves. San Francisco made me even more of an outsider than I already was. It pushed me to break the last barriers I had. I'm able to manage my work serenely now. I've got no interest in playing a role in society. I've come to terms with the fact that beauty doesn't need validation, that art has nothing to do with success.
VOL.1 is your latest album, where dynamic rock meets American folk. What was it like to make this record with a producer like George S. Rosenthal?
I've always done my own arrangements, all the way from drums and strings to the pre-mix phase, playing most if not all instruments myself. I was basically a control freak. Suddenly I understood that I was doing one of the most beautiful jobs in the world, but I had stopped playing. And art is all about playing. In music, you can't always play by yourself, sooner or later it will become lonely. For the first time ever, I felt the need to delegate. As soon as I finished the preproduction phase in loneliness, I left everything in George's hands. Without hesitation. George is also a friend, and apart from being an outstanding producer, he's also a great musician who displayed true empathy. KC is a southern-European rocker that's fallen madly in love with the West Coast. George understood my world and made it his own. He delivered the sound I had in my head. He worked hard to squeeze out all the rock and roll I had inside me without losing sight of my Italian spirit, which he always thought was an added value. Like my accent. KC VOL.1 was produced by both of us. It's our record. It's a record where the Mediterranean blood running through my veins meets the San Francisco Bay Area.
You've traveled quite a bit during your career; is it hard keeping your Italian identity whilst singing in English abroad?
No. Quite the contrary. My "Italianness" is what makes me who I am. It's my strong point.
Why did you decide to join Soundreef?
I work all over Europe. Playing in festivals, tours, the BBC and so on… I needed a smarter, more dynamic and transparent management of my repertoire. The most amazing thing about Soundreef is the speed at which you reply if someone's in need of assistance. I used to waste hours on the phone; Soundreef makes everything a lot easier, straightforward and pleasant.
Any advice for artists who want to write in English?
Don't be afraid. Just do it.
Thanks a lot, Roberta. We wish you the best of luck!