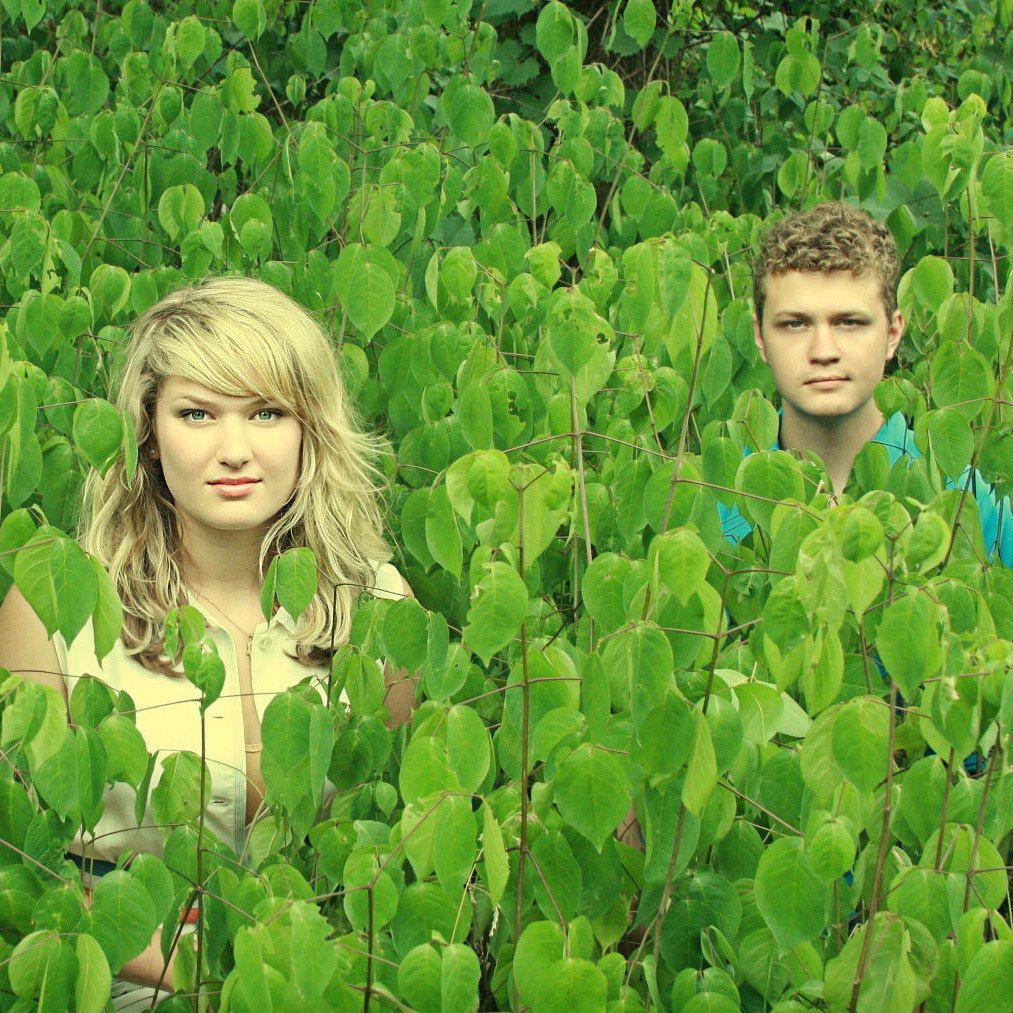 Those Willows are Jack
and Melissa, a duo from Portland, Oregon. They started working with Soundreef in
October 2012 and have been a runaway success, with our clients playing their songs
over and over again. They're an unsigned band, but the quality of their music
shines out and makes them a hot tip for future stardom.
Jack and Melissa have been writing songs together for about
five years. 'We started out as an acoustic duo just doing coffee shops,' Jack
explains, 'And it kinda turned into a band and then back to a duo, then into a
band again…'
When they met, Jack liked Feeder and was into rock bands,
but they soon realised how much people could be affected by more basic, stripped-down
songwriting. They talk about how they were inspired by musicians at a folk
festival in Michigan: 'There was this band that we saw,' Jack recalls, 'And
they just played on two [tree] stumps… There was a 'cello player and acoustic
guitar player, but they just had such an amazing presence.'
'They enchanted everyone,' Melissa adds.
The band used to hire studios to record their material, but have
recently installed recording equipment in their apartment and started laying
down new material with the help of a friend. 'It's a more relaxed atmosphere
and we can get out more of what we actually want to hear,' Melissa says.
The new set-up has also changed the way they write. 'Working
with a friend has helped us shape the songs and has been a good learning
experience for us,' Jack comments.
Despite the band doing so well out of Soundreef, they don't
actually write with background music in mind. 'It must be in the back of our
heads somewhere,' Melissa says, 'But I think it's more what we're feeling at
the time and it's really self expression.'
Jack laughs. 'We tried at some point to write background
stuff,' he adds, 'But it failed!'
The band first heard about Soundreef when Jack was
researching a college project on music licensing. 'I went to school for
creative advertising,' he explains. 'I wanted to do something that tied in with
what I was doing musically, but also have the business end of it, because a lot
of people don't know the business end of music.' His project ended up being
quite useful: 'It's my quick and easy guide to how to get your music out there!
I've given it to a couple of friends here to help them out.' (Read Jack's project here.)
Soon, with the help of his father, he was trying to make his
own music available for licensing. 'It takes so much time to first get your
songs looked at,' he says. 'And then from there, starting to get them
circulated, and then from there seeing any of the profit that you're actually made…
I think what I actually say in my book is, "Patience is the key to licensing
music, 'cos it just takes a while!"'
Jack's father, David, says: 'I was pretty impressed with
their songwriting ability and thought that maybe I could find a revenue stream
for them, some kind of income to help them out as they continue to try to make
it in the music industry with their performance.'
So he started researching: 'I ended up finding out about the
term "music licensing".' The results were a bit daunting: 'There were hundreds,
literally maybe hundreds and hundreds of music licensing companies… I looked at
all of them, and I first came across your sister company, Beatpick, and so
we've been a member of that for a few years. And through Beatpick, I was seeing
things about Soundreef.'
David thought that Soundreef seemed different to the others:
'I was really fascinated with the concept of the technology-driven company. It
was transparent, which I like, so you always knew what was going on. I had a
very, very positive experience with Beatpick in the past, so I felt good
about it and I was also reading a few years ago where in Europe, where
there was no longer a monopoly for the performing rights organisations out
there to basically paying the royalties for the composers and so now it's
opened up to competition, and Soundreef was basically the first one, maybe the
only one, that really perceived the opportunity and went after the marketplace
in Europe. So I was very, very intrigued by the concept.'
He also found the terms of the Soundreef membership agreement
appealing: 'I was never interested in exclusive agreements, where a music
licensing would try to license your song exclusively, because you never
know what they're going to do with them – they may do nothing and then you've
basically lost the opportunity to market the song. So I like the idea of
non-exclusivity, transparency, and also I felt that in the past when I dealt
with Beatpick, your sister company, they were very, very responsive. They
responded to me very, very quickly. And the same with Soundreef, too. I like
that. I like the idea of people being very responsive.'
He didn't have the same experience with some other licensing
companies. 'I researched hundreds of them; the people are well-intentioned, but
some of them are just composers that really don't have a business background…
and I've basically had to discontinue some of them because they're just so
poorly managed. And our songs are being played on TV stations or TV shows and
they just weren't keeping track of things. And so you have to be very careful
who you sign up with. You have to really try to understand the agreement and
what the risks are from both sides. With Soundreef, I thought it was very easy
to join. And it would be very easy to discontinue – I wouldn't want to, but
they make it very band friendly and it's very easy to load the songs up on the
player. You have to add a few things on the metadata, describing the type of
song. It's a very, very easy process. And you've usually loaded up the song and
in a matter of just a few days, they're active.
David agrees that it's difficult for independent musicians
to collect international royalties. 'We're in the States, and it's very, very
difficult – you never know what's out there! You don't know who's using their
music, and you don't know if the performing rights organisations, the PROs, who
we currently have a reciprocal agreement with, with our PROs here in the United
States, you don't know what they're doing. You really don't. With Soundreef,
you know where songs are playing, you know what songs are playing, how many
times the songs are playing, so there's transparency. I could not tell you
today if any of the songs are being played that were licensed to the PROs out
there. I have no idea. I've never received a royalty, I can tell you that!'
David handles the royalites websites, while Jack and Melissa
take care of the social media work, though David makes sure that Jack and
Melissa understand how everything works. 'I don't want to be naïve about it,'
Jack says. 'I want to know what's going to happen!'
What advice would Those Willows give artists who want to
follow in their footsteps?
The band suggest that artists should create an instrumental
version of each of their songs. 'We've had the most success with instrumental
versions,' Melissa says. They recommend some websites: 'Sonicbids has gotten us
quite a few of the bigger shows, so it's nice to have a profile up there,'
Melissa says. Jack points out that it has a start-up cost, but thinks it's
worth the money. Melissa also likes Reverb Nation: 'That's been a really good way to network and meet other
musicians.' The band are currently featured in the Reverb Nation folk charts. They
also suggest Bandcamp, their
album is available for download.
At the moment, the band says, it's just about being heard –
but even though they're earning from Soundreef, are they happy about having to
give their songs away for free on other sites? 'I think it bothered me at the
start of this all,' Jack says, 'But now… You have to go with the times, you
have to get moving. And a lot of people do buy CDs at shows – it's just that
there's a lot of people who don't!'
Melissa agrees. 'Once you come to terms with it, giving your
music away is a good move because really what you want to do is get your music
out there. So if you're playing enough shows then I guess that's where you have
to expect the income from. If they're downloading our CD then you can hope they
support us in separate ways. We just want people to listen!'
The band want to carry on getting their music heard –
perhaps by a wider range of people. 'We would like to be able to not only play
shows in our general area but in a broader arena. We'd love to travel, to tour,'
Melissa says.
David agrees: 'We want to have the group continuing to grow
their fanbase and hopefully get more and more exposure. They've had their songs
being played on TV shows here in the United States. Maybe at some point a
record label will be interested in them; maybe they'll just get enough of a
following that they can play bigger and bigger shows.' But he finds it hard to
tell what the future might hold when the technology is changing so quickly.
'It's hard to navigate it because there's just uncertainty out there. But they
are excellent songwriters and I'm hoping that that will catch someone's
attention.'
For the moment, though, they have work to finish off:
they're currently recording an EP and will soon be thinking about another
album. 'We write a lot of music!' Jack says. Hear it soon on Soundreef!
Are you an independent artist wanting to get your tracks
heard, and get paid for what you do? Register your music with Soundreef for free and collect royalties when your music is played in the background in
stores.