Today is World Environment Day, a day for encouraging worldwide awareness and action to tackle the numerous problems affecting our planet.
Summer is almost here, and calendars are starting to fill up with festival and concert dates. But it's not all fun and games (and good music). In fact, the environmental impact of big festivals has become a major issue due to their waste production, energy consumption, and CO2 emissions.
But just by taking a few small concrete steps and changing our behavior, we can make environmentally sustainable festivals possible.
Some of the world's biggest festivals have already started taking measures to not only reduce the amount of waste produced but also to make eco-sustainability the norm, and not the exception.
GLASTONBURY 2019
According to The Guardian, fans got through 1.3 million plastic bottles in 2017.
Nevertheless, in a bid to cut off the flow of waste, Glastonbury 2019 has banned plastic bottles both for the general public and for backstage catering. Vendors will only be able to sell canned drinks and people will be encouraged to bring their own reusable bottle (or buy a reusable bottle on site). Free water taps will be installed throughout the location to make sure everyone can refill their bottles and stay hydrated.
SZIGET 2019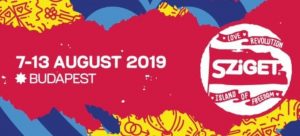 Apart from banning plastic bottles and only using biodegradable cups, utensils, and plates, bartenders at Sziget 2019 will only provide (reusable) straws upon explicit request. Fans will also be encouraged to bike to the festival and enjoy free bike storage, quick repair facilities, and rental services. In the EcoCamping area, each resident will receive a canvas bag with a flask and a trash bag. Last, but not least, over 50,000 pocket ashtrays will we distributed throughout the venue.
ISLE OF WIGHT 2019
Amongst their initiatives to reduce the environmental impact of the Isle of Wight Festival, organizers will provide eco-friendly shuttle buses, called "Big Green Coach", as a means of transportation to and from the venue. Since about 80% of festivals' carbon emissions come from audience travel, this percentage could be drastically reduced with this solution.
BONNAROO 2019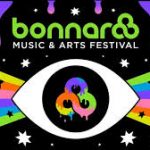 In a bid to set the standard in sustainability practices, Bonnaroo organizers claimed: "We don't just want to be the best festival. We aspire to be the greenest festival", and their efforts are starting to show.
In fact, one of Bonnaroo greatest successes is its educational efforts. Organizers believe that the greatest change comes from workshops and activities that aim at educating people. This way, when fans attend the festival, they take the knowledge they have learned home with them and spread it to their communities.
SHAMBALA FESTIVAL 2019 Image |

Daniel Farrell

@

Shambala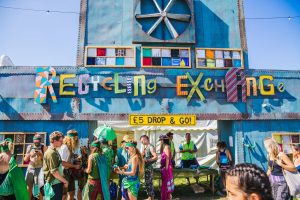 Shambala has been a leader in environmental awareness for a while. Over the past few years, the festival has been able to reduce its carbon emissions by 80%, ban non-reusable plastic and use renewable energy. Since 2016, the festival has been meat and fish free and has decided to adhere to strict food policies. All on-site food traders must:
Serve 100% organic milk and dairy
Serve only UK or European fruit & veg – and only Fairtrade bananas
Not serve ANY Coca-Cola or Nestlé products on site
Only use non-toxic, biodegradable cleaning products
These small but concrete measures can help us become more aware of the damage we are causing, and help us save our planet.
Let's keep fighting to make festivals greener and more environmentally sustainable so that music can become an advocate of change.
Music is fighting back. 
There's no planet B!