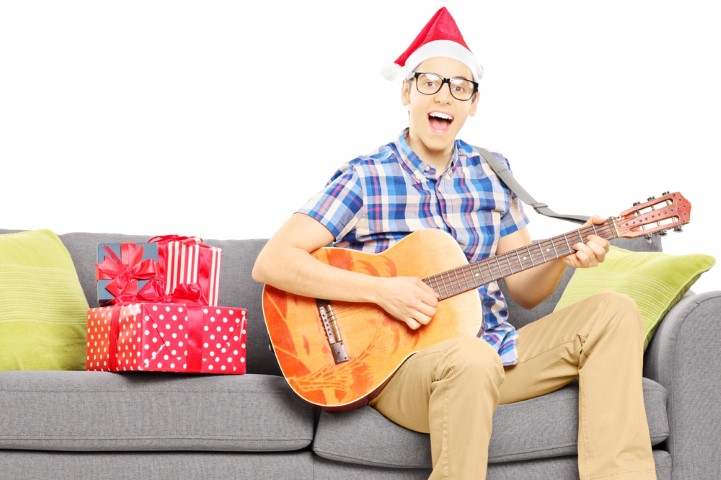 So here it is, merry
Christmas, everybody's having fun rocking around the Christmas tree with
mistletoe and wine. Joy!
Bored of hearing the
same in-store music every Christmas?
If you've always thought that every shop, restaurant, bar
and café – and even the gym! – played the same tedious Christmas hits every
year, you'd probably be right. ASCAP, a US collecting society, lists the inevitable Have Yourself A Merry
Little Christmas, the worn Winter Wonderland and the tiring Jingle Bell Rock
among others in its top 25 most performed songs (source: http://www.ascap.com/press/2006/112706_xmassongs.html).
The list was compiled in 2006, and is based solely on radio play, but it's
still notable that the newest song was released in 1984: Band Aid's Do They
Know it's Christmas (Feed The World).
The top ten in the UK, according to the UK's collecting
society PRS, includes the bittersweet Fairytale of New York alongside the
somewhat more grating All I Want For Christmas Is You, the nerve-jangling I
Wish It Could Be Christmas Everyday and the frankly excruciating Merry Xmas
Everybody (whose B-side was the appropriately titled 'Don't Blame Me') (source:
http://www.prsformusic.com/aboutus/press/latestpressreleases/Pages /FairytaleofNewYorkmostpopularChristmassong.aspx).
Though this list was compiled to cover the years 2010-2012, and – like ASCAP's
list – only uses data from radio play, the newest song was recorded back in
1994.
It seems that people rarely write new Christmas songs: as
soon as retailers start putting up the Christmas decorations, we're straight
back to the land that time (and taste) forgot.
What does that mean
for artists, record labels and publishers?
Artists, record labels and publishers can earn a massive
amount of music royalties for their contributions to Christmas past and
present. Since they should be paid royalties every time their songs gets
played, they can probably stomach the jolly refrains and sleigh bells a good
deal better than most shoppers. Other music is played at Christmas, but it
tends not to get recognised, at least financially: due to the way collecting
societies usually work out how to split royalties, the
same bunch of hitmakers are probably getting more than their fair share!
If you're an artist, why not write your own song Christmas
song and register it with us? If it meets our strict quality standards, you'll be able to see exactly where it's played and how much
you're being paid. Being jolly sorts, we accept Christmas music all year round – so if you're into the groove and want to keep those
sleigh bells ringing, go ahead!
What does that mean
for music for stores and other businesses?
Unless you run the kind of late-night takeaway establishment
that tries to encourage people to leave as soon as possible after they arrive,
both your customers and your staff would probably like to try something new!
Soundreef provides music for stores that is different: our collection of
Christmas songs will keep them all happy.
All our Christmas music is chosen by specialist Music
Supervisors, who create the perfect seasonal backing track. Soundreef's music
comes from many sources – from aggregators, record companies and publishers to
independent artists and singer-songwriters, and will save you money on the
licence fee you're currently paying! Give your staff and customers a treat, and
make this the first year that you don't wheel out Shakin' Stevens, Boney M and
Slade, and create a better atmosphere in your store.
Look to the future now
we've only just begu-u-uuuun…
Happy Christmas from Soundreef!